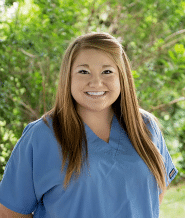 Treatment Coordinator
What do you do at the office?
I am one of the first of many smiling faces you'll find in the Frederick office where I am the treatment coordinator. At your first visit to our friendly office, I will work with the doctor to make sure you understand the treatment needed, the finances, and welcoming you to the practice. I joined the team in May 2014.
Where can we find you when you aren't at work?
In my spare time, you will find me tagging along somewhere with my large family. My mom, my five sisters, one brother, two kids, and my fiancé, we always have fun together. We love to be outdoors hiking, swimming, fishing, tubing, and going on adventures. We spend a lot of time on the baseball field with my son Blake, or at gymnastics with my daughter Bailey.
What's your favorite thing about your job?
I love working in the mouth! I have always loved teeth since I was young. I love working in Orthodontics, watching patients grow and change. I love making the patients understand all the ins and outs of orthodontics! My co-workers and the patients here are so fun and amazing in every way!
How do you describe yourself?
I am very fun and outgoing! I like to try new things and I always go with the flow!
What is one of your favorite quotes?
"Life's a climb, but the view is great !" "My hero wears combat boots"
"Be a best friend, tell the truth, and overuse I love you" "Dance as if no one were watching"