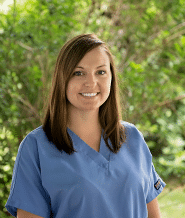 Certified Orthodontic Assistant
What do you do at the office?
I'm a Certified Orthodontic Assistant with my license in Radiology and I also manage the kids club, which involves our young patients who aren't ready to begin treatment and are placed on a recall system. I also am the OSHA Coordinator, keeping our staff up to date on their continuing education.
Where can we find you when you aren't at work?
Doing yoga, shooting guns with my Fiance John, and playing with my awesome cats.
What's your favorite thing about your job?
Seeing the transformation of patients smiles and how excited they get when they have straight teeth.
How do you describe yourself?
I'd say I'm a very goofy person and I love to laugh!
What is one of your favorite quotes?
"Every day may not be good … but there's good in every day"