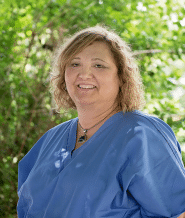 Office Lab Manager
What do you do at the office?
I am the office Lab manager. I have my Qualified Dental Assisting license and Maryland radiology license. I am responsible for fabricating appliances and models which are used in your treatment. I also order supplies, do the office upkeep, and handle maintenance and hospitality duties.
Where can we find you when you aren't at work?
I can be found in the kitchen decorating cakes or baking. You might also see me hanging around Camden Yards or watching the Orioles games with my two sons on TV. I also enjoy video games, reading, crafting, and singing in the choir.
What's your favorite thing about your job?
Working in the lab allows me to be in touch with my creative side. Every piece of work is like a commissioned piece of art-sometimes with its challenges-custom made and designed just for you.
What is one of your favorite quotes?
"The old dreams were good dreams; they didn't work out, but glad I had them"- Bridges of Madison County