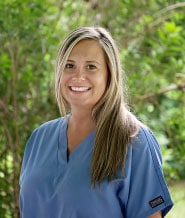 Clinical Assistant/Lab Technician
What do you do at the office?
I'm a Clinical Assistant and Lab Technician in our Frederick office and hold both my Qualified Assistant Certificate and my Radiology license. I also help with ordering clinical supplies as well as marketing in the Frederick practice.
Where can we find you when you aren't at work?
In my spare time, I love to be outdoors, either camping or boating with my family.
When did you join the Toothman Orthodontic Team?
I have been in the dental field since 1998 and with the Toothman's since 2012.
What's your favorite thing about your job?
My favorite thing about my job is knowing I play a part in giving patients a smile that will last a lifetime.
How do you describe yourself?
Fun, loving, and energetic!
What is one of your favorite quotes?
"Life ain't always beautiful, but it's a beautiful ride." Gary Allan