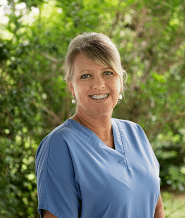 Clinical Assistant/Inventory Manager
What do you do at the office?
I am a clinical assistant with my Radiology license and manage the inventory, although I was cross-trained to do pretty much anything in the office. I've been here since July 2003.
Where can we find you when you aren't at work?
In the summer I'm at the pool, while year round I walk my German Shepard "Bella".
What's your favorite thing about your job?
One on one interaction with patients, open communication, and being able to be independent.
How do you describe yourself?
I am a hyper, outgoing, dependable, people person who can be loud at times. I also love to sing.