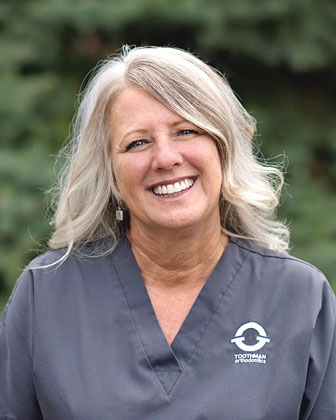 Orthodontic Assistant & Inventory Manager
What do you do at the office?
I am a clinical assistant with my Radiology license and manage the inventory, although I was cross-trained to do pretty much anything in the office. I've been here since July 2003. On the side, I always love making the staff, patients, and families smile and laugh with my singing in the clinic!
Where can we find you when you aren't at work?
I love spending time at home with my granddaughter, Madilyn and my 3 fur babies Bella Rae, Josie May, ad Sage Lee. I am not a winter person- I love spring, summer, and fall. I love to swim and enjoy being outdoors.
What's your favorite thing about your job?
Seeing the completion of a beautiful smile and watching our patient's self esteem rise to the highest level. I always enjoy hearing the positive feed back from patients that they receive once they are finished their treatment from their friends and families.
What is one of your favorite quote?
Work hard to get what you like, otherwise you'll be forced to just like what you get.