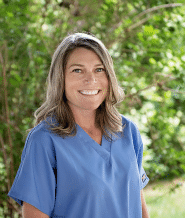 Front Desk Coordinator
What do you do at the office?
I have been a Lab Technician since March of 2014, where I make the plaster models of your teeth and your retainers, and most recently have become the receptionist in our Frederick office.
Where can we find you when you aren't at work?
Spending time with my husband and two kids is what I love the most! My favorite place to be is outdoors where I enjoy camping, hiking, playing in the snow, gardening, or at the beach …..I love all four seasons! I enjoy cruising with my husband in our 1956 VW convertible Bug! I enjoy reading and crocheting!
What's your favorite thing about your job?
I enjoy making things/working with my hands. It's a lot like craft time which I love!
What is one of your favorite quotes?
Without change, there would be no butterflies.